Build your business with the latest public sector tenders covering landscape, arboriculture, grounds care, production and horticultural supplies. The Tenders Tracker is a subscriber-only service delivering the latest public sector tender opportunities available across the UK, every week.
INTERACTIVE TABLE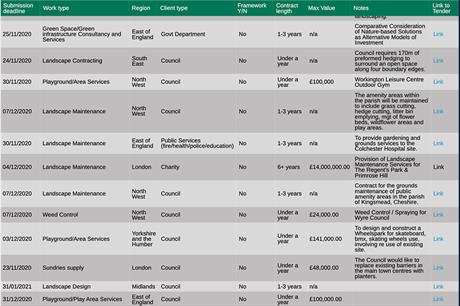 Tenders Tracker: LIVE TABLE
Welcome to the Tenders Tracker, where Horticulture Week keeps track of the latest horticulture-related public sector tenders of value £10,000 or over so you don't have to.
Gardener Opportunities
Competitive Salary plus benefits- dependent on job and experience, Bruton, Somerset
Experienced Gardener
£27-£34K, North London
Senior Gardener
£23,000 - £29,000, Aberdeen, Aberdeenshire
Environmental Landscaping Manager
£35,000 per annum, Walworth Garden, London SE17 3BN
Plant Centre Manager
Salary: £25,000 - £27,000 pro rata dependent on experience, Walworth Garden, London SE17 3BN
This bulletin is exclusive to subscribers and forms a part of your subscriber package. You can manage which bulletins you receive online in the My Bulletins section, or unsubscribe using the link below.