Welcome to this week's pick by HW's editors of the biggest industry developments, plus exclusive analysis and links to actionable data. Not logged in? Sign in here.
HORTICULTURE WEEK INTELLIGENCE
CLICK HERE to view a sortable and regularly updated table of key Brexit-related policy, legislation and guidance documents published by the UK Government, devolved administrations and the European Commission, relevant to horticulture.
Horticulture Kit & Machinery Special

HW's Tenders Tracker Service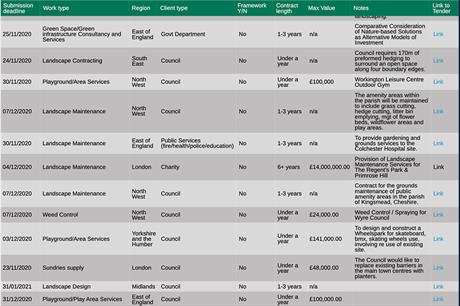 Tenders Tracker: LIVE TABLE
Welcome to Tender Watch, where Horticulture Week keeps track of the latest horticulture-related public sector tenders of value £10,000 or over so you don't have to.
CORONAVIRUS AND HORTICULTURE
The latest news and updates on the effects on horticulture and garden industry businesses of the coronavirus pandemic.  
Go to page
BUSINESS LEADS
Build your business with the latest public sector tenders covering landscape, arboriculture, grounds care, production and kit supplies. To receive the latest tenders weekly to your inbox sign up for our Tenders Tracker bulletin here.
THE INDUSTRY'S MORNING NEWS BULLETIN
Start your day fully briefed
Sign up for your Breakfast Briefing bulletin and get the latest news sent straight to your inbox every weekday morning.
Latest Jobs
Head Gardener
Competitive salary subject to experience, Suffolk
Gardeners – Full-time or Part-time positions available
£ 17,940 per annum - full time - 37.5hpw / £ 8,970 per annum - part time - 18.75hpw, Canterbury, Kent
Team Leader
Competitive, Windsor, Berkshire
Horticulturist
Excellent Salary & Benefits, Windsor, Berkshire
Greenhouse Assistant Manager
up to £30,000 + benefits, Rural Somerset near Glastonbury
This bulletin is exclusive to subscribers and forms a part of your subscriber package. You can manage which bulletins you receive online in the My Bulletins section, or unsubscribe using the link below.