Bringing you the week's top stories and tenders for 

landscape

, parks, gardens and turf professionals. Make sure you sign in to access all the benefits of your subscription. Sign in here.
HW's Tenders Tracker Service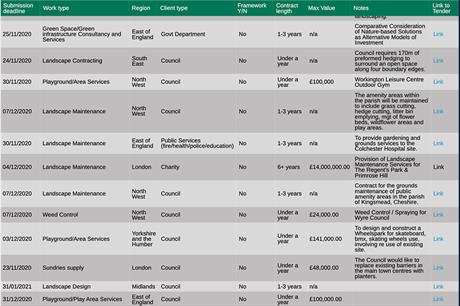 Tenders Tracker: LIVE TABLE
Welcome to Tender Watch, where Horticulture Week keeps track of the latest horticulture-related public sector tenders of value £10,000 or over so you don't have to.
Follow the latest on coronavirus and horticulture and garden industries
The latest developments including impacts on sales, supply chains and events.
TOP 70 LANDSCAPE AND MAINTENANCE FIRMS 2021
See our exclusive RANKING of landscape and maintenance contractors by annual turnover plus the FULL REPORT AND ANALYSIS.  
VIEW THE TOP 70
BUSINESS LEADS
Build your business with the latest public sector tenders covering landscape, arboriculture, grounds care, production and kit supplies. To receive the latest tenders weekly to your inbox sign up for our Tenders Tracker bulletin here.
HORTICULTURE WEEK INTELLIGENCE
CLICK HERE to view a sortable and regularly updated table of key Brexit-related policy, legislation and guidance documents published by the UK government, devolved administrations and the European Commission, relevant to horticulture.
HW CUSTODIAN AWARDS
Find out more about the outstanding parks, gardens and arboricultural projects and teams that became our Custodian Award 2019 winners.
Latest Jobs
Grounds Maintenance Team Leader
From £24,982 to £29,577 per annum, Based at Southwick, West Sussex
Horticulture & Nursery Manager
Salary dependent on experience, Benefits Package available, WV10 7LX, Wolverhampton
Garden Maintenance Team Leader
Starting at £14p/h dependent on experience and skills., Surbiton, London
Soft Landscaping Horticulturalist Foreman
£28k-£35k depending on experience, Notting Hill, London
General Maintenance Manager
Excellent salary depending on experience, Notting Hill, London
This bulletin is exclusive to subscribers and forms a part of your subscriber package. You can manage which bulletins you receive online in the My Bulletins section, or unsubscribe using the link below.