Gold Sponsor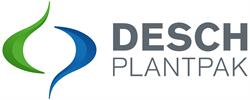 Website: www.desch.nl/en
Email: sales@desch-plantpak.co.uk
Tel: 01621 745500
Contact: Phil Griffiths, Sales Manager UK & Ireland

Burnham Road, Mundon, Maldon, Essex CM9 6NT
'Desch Plantpak solutions. Sustainable. Smart. Spot-on.'
One worldwide all-inclusive solution for sustainable recycling of our flowerpots. That sounds beautiful but is too good to be true. Each individual crop and every grower has his own set of demands for a pot. The final consumer also has wishes for the usage and local waste processing is far from universal; even offering separated waste streams and the processing of it is not the same in every country. 
Desch Plantpak offers the widest range of products from various materials that comply with local requirements and respect the environment at the same time. Together with the grower, retailer and waste processor we continuously develop new, sustainable solutions. By doing this we contribute an important part to the plastic waste issue.
We contribute with products like;
RECOVER®. nIR-detectable 'post-consumer' plastic and Cyclos HTP-certified which means that they meet the highest detectability and recycling requirements.
D-Tect®plus, made of NIR-detectable recycled plastic and Cyclos HTP certified.
The D-Tect®plus is a new addition to our range; a sustainable solution based on recycled plastic, mainly post-industrial (PIR). D-Tect®plus can be separated from waste using near infrared (NIR) technology, and can also be separated from heavier plastics as it floats on water. D-Tect®plus is therefore Cyclos HTP certified, the highest standard for plastic recycling. D-Tect®plus is available in the colour terracotta as standard. D-Tect®plus flowerpots, which are characterised by their grey interiors, are also ideal for printing.