Remember to sign in so you can read the full stories in today's Horticulture Week Breakfast Briefing
Tenders Tracker - free to HW subscribers!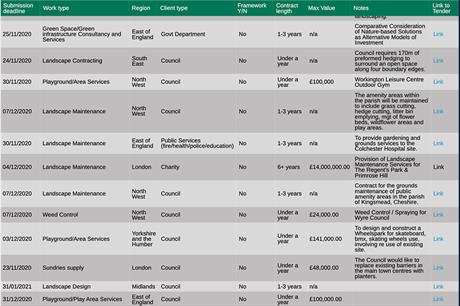 Tenders Tracker: LIVE TABLE
Welcome to Tender Watch, where Horticulture Week keeps track of the latest horticulture-related public sector tenders of value £10,000 or over so you don't have to.
HORTICULTURE WEEK INTELLIGENCE
CLICK HERE to view a sortable and regularly updated table of key Brexit-related policy, legislation and guidance documents published by the UK government, devolved administrations and the European Commission, relevant to horticulture.
Follow the latest on coronavirus and horticulture and garden industries
The latest developments including impacts on sales, supply chains and events.
Latest Jobs
Head Gardener
Competitive salary subject to experience, Suffolk
Gardeners – Full-time or Part-time positions available
£ 17,940 per annum - full time - 37.5hpw / £ 8,970 per annum - part time - 18.75hpw, Canterbury, Kent
Team Leader
Competitive, Windsor, Berkshire
Horticulturist
Excellent Salary & Benefits, Windsor, Berkshire
Greenhouse Assistant Manager
up to £30,000 + benefits, Rural Somerset near Glastonbury
This bulletin is exclusive to subscribers and forms a part of your subscriber package. You can manage which bulletins you receive online in the My Bulletins section, or unsubscribe using the link below.