Latest Tenders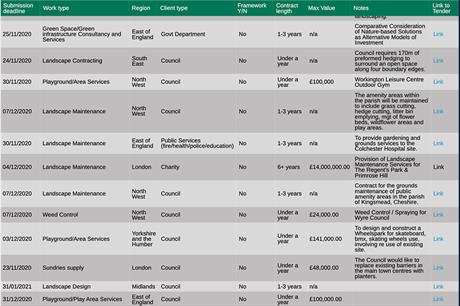 Tenders Tracker: LIVE TABLE
Welcome to the Tenders Tracker, where Horticulture Week keeps track of the latest horticulture-related public sector tenders of value £10,000 or over so you don't have to.
HORTICULTURE WEEK EXCLUSIVE RANKING
BUSINESS LEADS
Build your business with the latest public sector tenders covering landscape, arboriculture, grounds care, production and kit supplies. To receive the latest tenders weekly to your inbox sign up for our Tenders Tracker bulletin here.
Experienced Lead Gardener
Up to £30K DOE + Van, London (Greater)
Experienced Gardener
£27-£34K, North London
Senior Gardener
£23,000 - £29,000, Stonehaven, Aberdeenshire
Plant Centre Manager
Salary: £25,000 - £27,000 pro rata dependent on experience, Walworth Garden, London SE17 3BN
Environmental Landscaping Manager
£35,000 per annum, Walworth Garden, London SE17 3BN