Breadcrumbs
---
Artificial turf sales boom at B&Q
By Hortweek Wednesday, 24 February 2010
Sales of B&Q's newly introduced artificial turf soared 126% above the weekly average during the last week of January.
Christmas week sales were also strong, 100% above the average weekly sales since its launch in October 2009.
Artificial grass has been on trial at selected stores but will now be rolled out across 120 branches nationwide.
B&Q estimates it will sell over 10,000sq m of artificial grass this year, primarily for indoor use.
According to the company, young football fans have driven sales as they look to recreate pitches in bedrooms.
As such they anticipate a boom in sales in the run up to the World Cup.
The strong Christmas sales were attributed to demand for Christmas tree rugs.
B&Q assistant buyer for flooring Laura Nicholson said: "We tested artificial grass in a small number of stores as we really weren't sure how this would perform in the UK market, and we have been pleasantly surprised. A synthetic grass surface is just as appropriate in an indoor setting.
"We now plan to roll out to our largest stores by mid-March, ready for the Easter sales and of course in perfect time for customers to get turfed-up ready for the World Cup. People are buying artificial grass for many reasons; some people are using the grass as a feature rug in a football fan's bedroom or to have their own pitch in their very own front room. The short variety is also being used as a putting green.
"During the summer months, people are also extending their home to the outdoors by featuring a statement patch under their garden furniture, like an outdoor rug. We've also seen the grass used on balconies and patios for a little added colour and excitement."
Subscribe to Horticulture Week for more news, more in-depth features and more technical and market info.
Latest stories from Horticulture Week
comments powered by

Disqus
---
Additional Information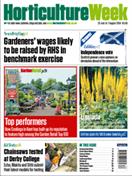 NEWS: Gardeners' wages likely to be raised by RHS in benchmark exercise
GARDEN RETAIL TOP 100 PROFILE: How Coolings in Kent has built up its reputation
KIT TEST: Echo, Makita and Stihl submit their latest chainsaw models for testing at Derby College
PLANT FOCUS: Ligularia
PEST & DISEASE FACTSHEET: Spider mites
UK GROWER AWARDS 2015: Entries now open