Breadcrumbs
---
Arts and design: Giving form to design flair
By Jez Abbott Friday, 01 May 2009
Green spaces require skilled and talented designers, just as buildings do.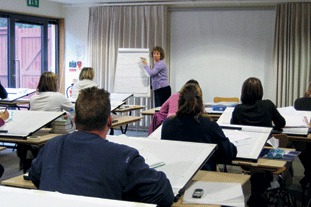 Creativity and horticulture go well together. Even in hard times, people want design with a big D, be it a rolling landscape of well-chosen, colour co-ordinated plants or a piazza defined by sleek street furniture and a signature piece of public art.
The person responsible for nurturing that creative vision from concept to completion could be any one of a number of types of professionals. These range from garden designers and landscape architects to interior landscape designers and public artists. Working in design is a constantly evolving art and the skills you learn now will be skills for life.
In the field
A designer is an eternal optimist forging new creative horizons in plant trends and garden styles of the future. Just look at the transformation of east London for the 2012 Olympics or the regeneration that has softened the edges of many inner cities in recent years. All of them bear the creative stamp of designers.
And the need for their skills remains high, throwing open opportunities for school students or mature career changers looking to go creative. Professional body the Landscape Institute has 6,000 members and the Society of Garden Designers has 1,700. Career prospects are strong and good reputations travel far - very far.
Many landscape designers or architects find that their blend of skills - horticulture, design, IT, geography and the environment - make them hot property in emerging metropolises such as Dubai and Shanghai. But wherever you are, sustainability, the green agenda and coping with climate change will be part of your skills base.
London landscape architect Dominic Cole says: "I'm the equivalent of an architect, but for the outdoors. I led the team that created the Eden Project in Cornwall. The project isn't just about architecture and creating a visitor destination, it's about how we're living in the world today. You really feel you are making a difference with a job like that."
Laura Bradley, who recently became a landscape architect, left school with A-levels in English, art and geography, but didn't feel "arty" enough to go for a fine-art degree. Landscape architecture, she says, blended all her academic skills - in that, there's a sensation of things "coming to life out of nothing".
Bradley has entered a chartered profession, which involves university study and on-the-job learning before she gains her professional status in much the same way as doctors, architects and lawyers.
People starting their careers now could be set to prosper. An independent report two years ago forecast big shortfalls in numbers of professionals by 2012, so new graduates have a fair chance of walking into a job with a starting salary of around £20,000. That can rise sharply as practitioners gain experience and responsibility, with successful professionals earning £100,000 plus.
Landscape architects will champion public spaces and showcase design, often winning national or international awards for the beauty of their vision.
Garden designers, meanwhile, can enjoy as high a profile as their chartered counterparts. Several TV gardening personalities found fame from the private gardens or historic estates that formed the canvasses of their creativity.
Those entering the domestic-garden world can follow a less-structured path than post-graduate landscape architects. Short courses, diplomas and distance learning as well as degrees can give you a start in the career. The Royal Horticultural Society (RHS), Capel Manor and Merrist Wood are three of many colleges that run courses of varying length, for different skill levels.
These draw all kinds of people with all kinds of personal skills and qualifications. Helen Prestedge studied biology at university and became a full-time teacher for seven years before doing two RHS horticulture courses and taking a diploma at the Garden Design School in Devizes, Wiltshire.
Garden designers such as Prestedge combine art, horticulture and construction skills to offer a complete design service. Computer-aided design will help you draw up plans and planting schedules, while technical skills will enable you to work out costs and implications of building paths, walls and decking.
Interior landscape architects can start to hone their art on National Vocational Qualifications and go up to masters degrees. The skills gained will allow you to bring horticultural colour to offices, leisure complexes and shopping centres as part of a big company, franchise operation, or as a solo practitioner.
And, where few people are totally safe in economic downturns, many garden designers in the domestic sector find themselves in demand as homeowners put off moving and, instead, invest in home improvements and gardens. This is good for small design businesses, and healthy prospects do wonders for easing the burden of those education bills.
Moira Farnham - who runs the Garden Design School and has created award-winning gardens at events including Hampton Court Palace Flower Show - says courses last from a few days to several years. It's a good idea, therefore, to have an idea of your long-term aims and the training commitment.
"Talk to people who are already in the industry and visit the colleges you are interested in," she says. "Ask to see examples of students' work and, if possible, take the time to meet students past and present.
"The most important thing when choosing is to be sure the course and the people running it meet your needs."
Good prospects
Not all garden designers belong to small practices. Some work within larger garden contracting or maintenance firms, while others join larger house-building companies. If this sounds good and you're in secondary education, check out the new Diploma in Environmental and Land-based Studies (see the feature on p.5).
A representative for one of the participating colleges, Duchy College in Cornwall, says it's too early to say how the new diplomas will affect training in design in landscape. But it could form a big step towards meeting the target of recruiting 5,000 new employees to landscaping in the next decade.
And, if hands-on three-dimensional design is not your forte, allied careers such as horticultural journalism or photography offer enjoyable niches in staff or freelance positions with dedicated gardening magazines and newspaper gardening supplements.
Some people start out in horticulture and move into writing and broadcasting; Alan Titchmarsh being a famous example. Other people train in journalism or photography and then learn about plants and gardening.
But the continuing popularity of gardening, glossy design books and aspirational journals suggests that even in an economic downturn, creativity and understanding in horticulture are still in strong demand.
PAYSCALE - TYPICAL SALARIES FOR THE SECTOR
Junior landscape architect: £20-£25,000 pa
Senior landscape architect: £70,000 plus pa
Junior garden designer: £17-£20,000 pa
Senior garden designer: £50,000 plus pa
blog comments powered by

Disqus
---
Additional Information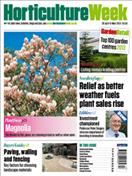 NEWS: Relief as better weather fuels plant sales rise
PLANT FOCUS - Magnolia
BUYERS' GUIDE - Paving, walling and fencing
GARDEN RETAIL - Top 100 Garden Centres
SARGENT'S SOLUTIONS - How to manage a growing project
LAWN CARE - High hopes for seed sales
INTERVIEW - Graham Spencer, founder, Plants for Europe