Breadcrumbs
---
Credit crunch drives demand for grow-your-own vegetable seed
By Mark Hotton Thursday, 26 June 2008
The credit crunch and the soaring cost of food are driving sales of vegetable seed and young plants as consumers tighten their belts and try growing their own produce.
Growers and seed companies are reporting growth in demand for vegetable seed and fruit bushes.
Traditionally, a grow-your-own boom occurs only in times of economic recession. And although seed firms have invested heavily in novelties, it has emerged that traditional lines such as tomatoes, runner beans and salads remain the best-sellers.
Vegetable and fruit company Marshalls, based in Huntingdon, Cambridgeshire, has experienced an 85 per cent rise in sales of strawberry plants during the past 12 months.
Managing director Martin Harvey said: "It started in 2007 with Carol Klein's TV series and gathered pace with concern about food miles, and that was before the credit crunch.
"Now we're seeing massive demand for traditional varieties. Runner beans are popular and there's growth in sales of carrots, salad leaves, beetroot, radish and spring onions."
Horticultural manager at Ipswich-based Thompson & Morgan, Andrew Tokely, confirmed that vegetable seed was outselling all flowers this season.
He said: "Out of our 50 best-sellers, 40 are vegetables. Around 10 years ago, over half were flowers. Our best-seller is tomatoes, followed by runner beans and cut-and-come-again salads. Consumers have big problems getting hold of allotments and that is what's driving the market for vegetables in containers."
Marketing manager Ian Cross of Johnsons Seeds in Suffolk said the firm's vegetable seed sales rose 20 per cent in 2007, overtaking flowers for the first time.
Cross anticipates growth in the sector: "Five years ago we used to sell 60 per cent flowers to 40 per cent vegetables. Now it's the other way round. Consumers want quick-growing crops and there's a lot of interest in herbs and salads."
Recent HTA figures revealed that sales of fruit trees and bushes jumped by 43 per cent last year, with edible plant seed up by 13 per cent and herb sales growing by six per cent within 12 months.
According to the Office for National Statistics, vegetable prices rose by 6.8 per cent last year, adding momentum to the grow-your-own trend.
Latest stories from Horticulture Week
comments powered by

Disqus
---
Additional Information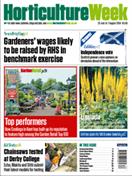 NEWS: Gardeners' wages likely to be raised by RHS in benchmark exercise
GARDEN RETAIL TOP 100 PROFILE: How Coolings in Kent has built up its reputation
KIT TEST: Echo, Makita and Stihl submit their latest chainsaw models for testing at Derby College
PLANT FOCUS: Ligularia
PEST & DISEASE FACTSHEET: Spider mites
UK GROWER AWARDS 2015: Entries now open