Breadcrumbs
---
News & Analysis
The latest news for horticulture professionals, including garden retail, ornamentals nurseries, field vegetable and salad crops, sport and amenity turf, landscape contracting and design, grounds maintenance, parks & gardens and arboriculture.
Columnists & Comment
18 April 2014
I have just seen another £200,000 spent on a playground, once again resulting in an area of rubber surfacing covered in boring, risk-averse play equipment surrounded by fencing.
18 April 2014
Continual rain over three winter months flooded large areas, devastating lives, homes, businesses and communications.
18 April 2014
Arguments over whether the Government's attempt to unlock large-scale housing development by supporting the creation of three garden cities will make a lasting difference to the housing shortage will no doubt rumble on well beyond this Easter bank ho...
---
Additional Information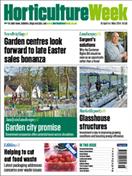 NEWS: Garden centres look forward to late Easter sales bonanza

SARGENT'S SOLUTIONS: Why the Customer Rights Bill should be seen as an opportunity rather than a threat

MARKET REPORT: Glasshouses
LANDSCAPE ANALYSIS: Government prospectus offers potential boost across disciplines

EDIBLES: Helping cut food waste - latest packaging addresses concerns over waste issues
PLANT FOCUS: Polygonatum