Breadcrumbs
---
News & Analysis
The latest news for horticulture professionals, including garden retail, ornamentals nurseries, field vegetable and salad crops, sport and amenity turf, landscape contracting and design, grounds maintenance, parks & gardens and arboriculture.
Columnists & Comment
17 July 2014
One of the real pleasures for me is to visit a really well-run business, efficiently operated, with enthusiastic staff working in neat conditions.
11 July 2014
The recent inquest into the death of a young woman at Kew Gardens in 2012 caused by a falling branch from a mature cedar raised important tree-risk management questions. After lengthy proceedings, a jury found that there was insufficient evidence to ...
11 July 2014
If there was any doubt that collaboration pays, two important developments within horticulture's wonderfully diverse but, for far too long, dangerously fragmented industry should settle the matter for good.
---
Additional Information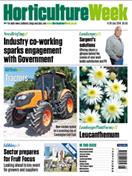 NEWS: Industry co-working sparks engagement with Government
SARGENT'S SOLUTIONS: Offering clients a glimpse behind the scenes of your work builds satisfaction and PR
KIT TESTS: Tractors
PLANT FOCUS: Leucanthemum
SHOW PREVIEW:
Sector prepares for Fruit Focus