Breadcrumbs
---
Turf
News, in-depth reporting and discussion of greenkeeping and turf maintenance, including sports turf, fine turf and amenity turf. Looking for greenkeeper jobs? 
Visit HorticultureJobs.co.uk
What's New
21 March 2014
Burying seed up to 20mm deep and with a working width of 1.83m, the new Double Disc 1830 Overseeder from Charterhouse Turf Machinery boasts disc spacing of 30mm. It is fully adjustable for any type of seed and has a 300-litre hopper. A 65hp tractor ...
21 March 2014
Providing Bomford arm mower owners with alternative uses outside the hedge-cutting season, the Pro Drill Head can be used to power either a range of post-hole borers or a tree stump planer. A heavy-duty hydraulic motor can be used at oil flow rates ...

21 March 2014
Launched at the BTME turf show in Harrogate in January, the KSAB Duo Super Spreader features double plates to achieve uniform dispersal without the need for a second run. Available from Sherriff Amenity, it has a parking or support wheel to ensures ...
21 March 2014
With a powered cut-and-collect system, the new C-Series lawn tractor from Countax can mow quickly. The XRD cutter deck uses contra-rotating blades to cut the grass before throwing the clippings in front of the collector. Driven by the tractor's engi...

07 March 2014
Going down a storm at the Redexim demonstration event in Holland last year, the Speed-Brush is now available in the UK from Charterhouse Turf Machinery.
07 March 2014
With no fewer than 18 upgrades to the 1200 model, the new GreensPro 1240 claims to take greens rolling to "another level".
---
Additional Information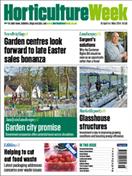 NEWS: Garden centres look forward to late Easter sales bonanza

SARGENT'S SOLUTIONS: Why the Customer Rights Bill should be seen as an opportunity rather than a threat

MARKET REPORT: Glasshouses
LANDSCAPE ANALYSIS: Government prospectus offers potential boost across disciplines

EDIBLES: Helping cut food waste - latest packaging addresses concerns over waste issues
PLANT FOCUS: Polygonatum