Breadcrumbs
---
Technical
Horticultural techniques, plant pests & diseases, equipment & machinery, energy management, horticultural research findings and other technical information
Market reports
18 April 2014
Investment is a priority for improving growing conditions and boosting energy efficiency, says Sally Drury.

29 March 2014
What new developments are currently on offer from turfgrass breeders? Sally Drury investigates

13 March 2014
How can the latest products help turf managers following unprecedented rainfall? Sally Drury finds out.
Equipment & Materials

18 April 2014
Up-to-date information on glasshouse products and suppliers.

18 April 2014
How does the alpine house benefit RHS Garden Harlow Carr? Sally Drury finds out.
10 April 2014
Retailers' response to food-waste concerns is driving packaging manufacturers to find innovative solutions, Gavin McEwan reports.

04 April 2014
Battery models dominate new introductions but petrol options are also being updated, says Sally Drury.
Latest Machinery Tests
Look out, the Vikings are coming. Stihl calls this latest model a "mulching expert", and we can see why. This is an efficient performer that gives a nice clean cut, with the finely mulched grass clippings evenly deposited even when conditions are les...
---
Additional Information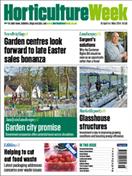 NEWS: Garden centres look forward to late Easter sales bonanza

SARGENT'S SOLUTIONS: Why the Customer Rights Bill should be seen as an opportunity rather than a threat

MARKET REPORT: Glasshouses
LANDSCAPE ANALYSIS: Government prospectus offers potential boost across disciplines

EDIBLES: Helping cut food waste - latest packaging addresses concerns over waste issues
PLANT FOCUS: Polygonatum