Breadcrumbs
---
Plant Focus
A guide to species and cultivars of popular or useful plant genera, with supplier's tips on how to use or sell them plus the latest plant releases.
New plants

07 February 2014
Fleuroselect has awarded gold medals some of its most innovative plants. Zinnia marylandica Zahara Sunburst by Pan American Seed.

07 February 2014
Fleuroselect has awarded gold medals some of its most innovative plants. Zinnia x hybrida Profusion Double Hot Cherry bred by Sakata.

24 January 2014
Hardy's Cottage Garden Plants has launched Eryngium 'Neptune's Gold', Gaura Rosy Jane and Trollius Dancing Flame.
24 January 2014
Jelitto has published its 2014-15 catalogue, including Pulsatilla vulgaris 'Rose Bells' and Vernonia noveboracensis 'White Lightning'.

30 August 2013
Beekenkamp introduces Begonia 'Vermillion Red', Begonia 'Glory Lemon' and Begonia 'Waterfall Encanto Red' for 2014.
30 August 2013
Pannebakker Plants, the Dutch grower, will showcase its 50-60cm Picea pungens 'Super Blue Seedling', which has attractive silvery blue foliage.
30 August 2013
Moles Seeds will be showing two series of French Marigolds, the new vanilla-cream Anemone-type Alumia and the early flowering crested-type Cresta.

30 August 2013
Thompson & Morgan Direct to Grower will be launching its new range for 2014, adding more than 30 new seed introductions to the range. New varieties from the Thompson & Morgan cutting raised breeding programme include the Digitalis 'Illumination Pink'...

30 August 2013
'Raphaella' is a new Tumbelina double, adding to the already wide range of colours in the series. It has the virtue of being early to flower and looks good as a young plant.

30 August 2013
Kernock Park Plants is introducing 50 new varieties to its catalogue for 2014, including the latest Calibrachoa in the Superbells collection, 'Pomegranate Punch'. It flowers from the beginning of summer to the end of October, and its crimson-red flow...

30 August 2013
Delamore's new varieties for 2014 include its Petunia 'Summer Ray' series, a mounding Petunia hybrida, along with Impatiens 'Sun Harmony Salmon', and Hydrangea 'Schloss Wackerbarth', which blooms red flowers with blue centres tipped with shades of li...

30 August 2013
German breeder Elsner Pac - whose plants are sold by Eagles - is set to introduce its first variety of Laurentia. Laurentia Pac 'Shooting Star Blue' is early flowering and has a long flowering period. The star-shaped blooms cover compact mounding pla...

30 August 2013
Fairweather's will be exhibiting the hardy and free-flowering Agapanthus 'Brilliant Blue', which was launched at the Hampton Court Palace Flower Show this year. Agapanthus 'Goldstrike' is a new variegated-leaved plant with rich blue flowers.

30 August 2013
In its association with the Dummen Red Fox brand, Young Plants has added Sweetunia 'Johnny Flame' to its range, while plants that got the thumbs-up in its open days in June include the new Calibrachoa Hula range.

30 August 2013
Moerheim New Plant will show new annual bedding plants from the Suntory collection, including the spectacular Sundaville 'Grand White', which is rain-resistant and suited for trellis, baskets and landscaping.

30 August 2013
Earley Ornamentals will introduce early-flowering Mecardonia 'Magic Carpet', which has continuous bright yellow flowers.
---
Additional Information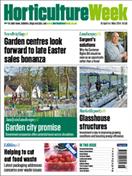 NEWS: Garden centres look forward to late Easter sales bonanza

SARGENT'S SOLUTIONS: Why the Customer Rights Bill should be seen as an opportunity rather than a threat

MARKET REPORT: Glasshouses
LANDSCAPE ANALYSIS: Government prospectus offers potential boost across disciplines

EDIBLES: Helping cut food waste - latest packaging addresses concerns over waste issues
PLANT FOCUS: Polygonatum