Breadcrumbs
---
Pests & Diseases
Beat the bugs by staying up to date with our plant pest and disease alerts and factsheets on the most common threats.
Pest & Disease Factsheets
John Adlam's Notes From The Nursery
A weekly roundup of jobs to do and what to watch out for to ensure your crops are protected.
HW's pest & disease bulletin delivers a monthly round-up of news, information, products and research developments relating to the battle against pests and diseases.
---
Additional Information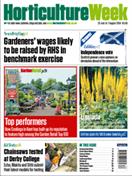 NEWS: Gardeners' wages likely to be raised by RHS in benchmark exercise
GARDEN RETAIL TOP 100 PROFILE: How Coolings in Kent has built up its reputation
KIT TEST: Echo, Makita and Stihl submit their latest chainsaw models for testing at Derby College
PLANT FOCUS: Ligularia
PEST & DISEASE FACTSHEET: Spider mites
UK GROWER AWARDS 2015: Entries now open