Breadcrumbs
---
Parks & Gardens
Horticulture Week's Parks & Gardens News delivers the top stories affecting public open spaces, including amenity turf, historic & botanic gardens, parks trusts, volunteering and parks funding.
Sargent's Solutions
Your professional gardening and landscaping queries answered
Sid Sullivan's Blog
Incisive insight and candid comment from parks consultant Sid Sullivan
Read 'A Day in the Life'...

See full winners list and case studies on award-winning parks.
What's New
18 April 2014
Hire Supply Company HSC has purchased the business and assets of Midland Power Machinery.
18 April 2014
Fresh grass clippings, leaves, farmyard manures and weeds can all be piled into a Mantis ComposTumbler to give nutrient-rich compost in just two weeks when an activator is added.
18 April 2014
Stihl has joined the robotic lawnmower market with the introduction of the intelligent Viking-branded iMOW.
21 March 2014
Providing Bomford arm mower owners with alternative uses outside the hedge-cutting season, the Pro Drill Head can be used to power either a range of post-hole borers or a tree stump planer. A heavy-duty hydraulic motor can be used at oil flow rates ...
How the funding squeeze is hitting green spaces.
Comment

18 April 2014
I have just seen another £200,000 spent on a playground, once again resulting in an area of rubber surfacing covered in boring, risk-averse play equipment surrounded by fencing.

07 February 2014
A new British Standard is about to be published and it is different from anything seen in the past.

24 January 2014
As flood warnings remain in place across many areas of the UK, the subject of urban cooling and the crucial role that plants can play in its support may not be uppermost in the minds of those concerned with the built environment.
24 January 2014
After two decades of investment and improvement, UK public parks and open spaces have become increasingly valued and well used. Green space is often central to regeneration projects from the Queen Elizabeth Olympic Park to Birmingham's Eastside Park....
---
Additional Information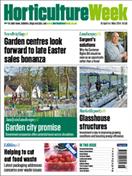 NEWS: Garden centres look forward to late Easter sales bonanza

SARGENT'S SOLUTIONS: Why the Customer Rights Bill should be seen as an opportunity rather than a threat

MARKET REPORT: Glasshouses
LANDSCAPE ANALYSIS: Government prospectus offers potential boost across disciplines

EDIBLES: Helping cut food waste - latest packaging addresses concerns over waste issues
PLANT FOCUS: Polygonatum