Breadcrumbs
---
Ornamentals Production
News, in-depth reporting and discussion of ornamental plant production nurseries, including hardy nursery stock, protected crops, cut flowers and bulbs.

Looking for nursery jobs ? Search horticulturejobs.co.uk


John Adlam's Notes From The Nursery
A weekly roundup of jobs to do and what to watch out for to ensure your crops are protected.
Peter Seabrook
Inspiration and insight from travels around the horticultural world.
Peter Seabrook's blog

New Plants

25 July 2014
Farplants has launched Rehmannia Walberton's 'Magic Dragon'.

16 May 2014
A range of multiple irises, including 'Astana' - Cayeux Iris

16 May 2014
Chrysanthemum 'Martin Bell' from Chrysanthemums Direct.
16 May 2014
Sarracenia 'Matt Johnson' from Hampshire Carnivorous Plants.

16 May 2014
Clematis Edda ('Evipo074') from Raymond Evison Clematis.

16 May 2014
Hosta 'Andy Murray' is from Brookfield Plants.
Tim Edwards
Boningales Nursery chairman Tim Edwards on the business of ornamentals production
Edwards on...

Andrew Hewson
Writer and columnist Andrew Hewson offers his reflections on horticulture
Hewson on...
---
Additional Information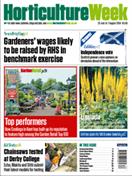 NEWS: Gardeners' wages likely to be raised by RHS in benchmark exercise
GARDEN RETAIL TOP 100 PROFILE: How Coolings in Kent has built up its reputation
KIT TEST: Echo, Makita and Stihl submit their latest chainsaw models for testing at Derby College
PLANT FOCUS: Ligularia
PEST & DISEASE FACTSHEET: Spider mites
UK GROWER AWARDS 2015: Entries now open