Breadcrumbs
---
Ornamentals Production
News, in-depth reporting and discussion of ornamental plant production nurseries, including hardy nursery stock, protected crops, cut flowers and bulbs.

Looking for nursery jobs ? Search horticulturejobs.co.uk


John Adlam's Notes From The Nursery
A weekly roundup of jobs to do and what to watch out for to ensure your crops are protected.
Peter Seabrook
Inspiration and insight from travels around the horticultural world.
Peter Seabrook's blog

New Plants

18 April 2014
Cotinus 'Candy Floss', a cross between C. 'Grace' and C. 'Daydream' made by Hillier plant propagators that grows up to 4m in height.

18 April 2014
Cotinus 'Ruby Glow', selected by Alan Postill as having the star qualities of habit, abundant flowering and "sensational" autumn colour.
18 April 2014
Hillier Nurseries & Garden Centres has introduced:

04 April 2014
Sun Villea, a compact bougainvillea, will also be on show along with a range of new-generation Surfinia varieties, including Heavenly Blue.

04 April 2014
The Suntory Collection Europe will be showcased at the European Spring Pack Trials on 29 April to 2 May at Moerheim New Plant in Leimuiderbrug, the Netherlands, featuring:

21 March 2014
Beekenkamp has launched its new outdoor trailing Begonia 'Waterfall' and Begonia 'Beauvilia' (pictured).
Tim Edwards
Boningales Nursery chairman Tim Edwards on the business of ornamentals production
Edwards on...

Andrew Hewson
Writer and columnist Andrew Hewson offers his reflections on horticulture
Hewson on...
---
Additional Information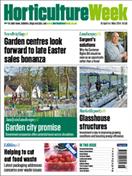 NEWS: Garden centres look forward to late Easter sales bonanza

SARGENT'S SOLUTIONS: Why the Customer Rights Bill should be seen as an opportunity rather than a threat

MARKET REPORT: Glasshouses
LANDSCAPE ANALYSIS: Government prospectus offers potential boost across disciplines

EDIBLES: Helping cut food waste - latest packaging addresses concerns over waste issues
PLANT FOCUS: Polygonatum