Breadcrumbs
---
Machinery Tests
Independent tests & reviews of equipment and machinery used by horticultural business and professionals, including grass cutting, hedge cutting, tree care, turf care, grounds maintenance equipment.
Find and compare machinery specifications, prices and reviews on What Kit?

25 July 2014
Another battery chainsaw, but this one is fitted with two 18V Lithium-ion batteries to give 36V. By having two batteries, more power and run time are achieved. However, you can still use the batteries to power other equipment, such as Makita's blow...

25 July 2014
Quiet and simple - that is the promise from Stihl. It is a promise on which it delivers. Just squeeze the throttle and the chainsaw is set to work. It is swift in acceleration and, being narrow, this should make the perfect saw for pruning and remedi...

25 July 2014
Without a doubt, the 261 is a popular saw. In fact, some would say it is a legend. Thanks to its cutting precision and powerful torque, it is Stihl's top-selling all rounder. It already includes the Stihl 2-MIX eco and fuel-efficient engine, a long...
How to buy...
Buyers' guide - tractors Vibration levels, implements and working conditions are key considerations, Sally Drury explains.
Buyers' guide - Chainsaws Your experience and training are key factors when it comes to choosing a chainsaw, Sally Drury explains.
Buyers' guide - Brushcutters The terrain and nature of the job will dictate which machine you should be using, Sally Drury explains.
Buyers' guide - Woodchippers Arborists, landscapers and grounds-maintenance teams can put chippers to good use, says, Sally Drury.
Buyers' Guide - Horticultural fabrics From crop protection to insulation, there is a material to meet every horticultural need, says Sally Drury.
Buyers' Guide - Blowers and sweepers Sally Drury looks at blowers and sweepers that can be handheld, pushed, vehicle-mounted or towed.
---
Additional Information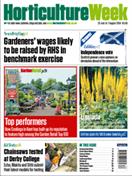 NEWS: Gardeners' wages likely to be raised by RHS in benchmark exercise
GARDEN RETAIL TOP 100 PROFILE: How Coolings in Kent has built up its reputation
KIT TEST: Echo, Makita and Stihl submit their latest chainsaw models for testing at Derby College
PLANT FOCUS: Ligularia
PEST & DISEASE FACTSHEET: Spider mites
UK GROWER AWARDS 2015: Entries now open