Breadcrumbs
---
Key facts and info to help you beat major pests
The Make Parks a Priority campaign is calling for a fresh Parliamentary inquiry into urban parks to address the impact on parks of budget cuts.

See our CAMPAIGN WEBPAGE for information on the campaign and how to get involved.
Explore Horticulture Week
Branching out - diversification Following a tough spring for plant sales, Jonathan Tilley asks whether ornamental growers need to diversify to survive
Interview - Andrew Wilson, garden designer Andrew Wilson has designed a garden for the Fresh section of the RHS Chelsea Flower Show this year. He is also a judge for the main show garden section and has reviewed judging criteria based on his work as a garden design teacher
How to Buy - Field sprayers The latest self-propelled, tractor-mounted and trailed models all have new features, says Sally Drury
Designer centres Offering design services is an increasingly popular method for garden centres to attract customers with money to spend, Jack Shamash discovers
Recruiting the right staff Key principles apply to finding the right people for your organisation's job vacancies, says Neville Stein
Investing in online learning As the industry begins to realise the benefits of educating the workforce with e-learning methods, Magda Ibrahim examines the pros and cons
Events
North York Moors National Park
Date: Mon 18 Mar 2013 - Sat 14 Sep 2013
Venue: North York Moors National Park
Various including the Wirral Council's Rangers
Date: Wed 01 May 2013 - Fri 31 May 2013
Venue: Various locations.
Barcham Trees
Date: Wed 15 May 2013 - Wed 29 May 2013
Venue: Barcham Trees 300 acre nursery in Ely, Cambridge.
---
Additional Information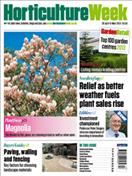 NEWS: Relief as better weather fuels plant sales rise
PLANT FOCUS - Magnolia
BUYERS' GUIDE - Paving, walling and fencing
GARDEN RETAIL - Top 100 Garden Centres
SARGENT'S SOLUTIONS - How to manage a growing project
LAWN CARE - High hopes for seed sales
INTERVIEW - Graham Spencer, founder, Plants for Europe