Breadcrumbs
---
Equipment & Materials
News, reviews and guides to buying equipment and materials used by horticultural businesses and professionals.
Find and compare machinery specifications, prices and reviews on What Kit?
Equipment & Materials In Depth

18 April 2014
Up-to-date information on glasshouse products and suppliers.

18 April 2014
How does the alpine house benefit RHS Garden Harlow Carr? Sally Drury finds out.
10 April 2014
Retailers' response to food-waste concerns is driving packaging manufacturers to find innovative solutions, Gavin McEwan reports.

04 April 2014
Battery models dominate new introductions but petrol options are also being updated, says Sally Drury.

13 March 2014
How can the latest products help turf managers following unprecedented rainfall? Sally Drury finds out.
07 March 2014
Sally Drury explains how growers are going to have to use water more efficiently to keep costs down.

28 February 2014
What equipment can turf managers call on to cope with recent extreme weather? Sally Drury investigates
21 February 2014
New models were submitted for testing on a wet and windy day at Bridgwater College, Sally Drury reports.
What's New
18 April 2014
Hire Supply Company HSC has purchased the business and assets of Midland Power Machinery.
18 April 2014
Fresh grass clippings, leaves, farmyard manures and weeds can all be piled into a Mantis ComposTumbler to give nutrient-rich compost in just two weeks when an activator is added.
18 April 2014
Stihl has joined the robotic lawnmower market with the introduction of the intelligent Viking-branded iMOW.
21 March 2014
Providing Bomford arm mower owners with alternative uses outside the hedge-cutting season, the Pro Drill Head can be used to power either a range of post-hole borers or a tree stump planer. A heavy-duty hydraulic motor can be used at oil flow rates ...

21 March 2014
Launched at the BTME turf show in Harrogate in January, the KSAB Duo Super Spreader features double plates to achieve uniform dispersal without the need for a second run. Available from Sherriff Amenity, it has a parking or support wheel to ensures ...
21 March 2014
With a power transmission unit that will operate many of the company's machines, a new two-wheel tractor built by Blec can be specified with Honda or Yamaha engines to give petrol or diesel options.
21 March 2014
With a powered cut-and-collect system, the new C-Series lawn tractor from Countax can mow quickly. The XRD cutter deck uses contra-rotating blades to cut the grass before throwing the clippings in front of the collector. Driven by the tractor's engi...

07 March 2014
Going down a storm at the Redexim demonstration event in Holland last year, the Speed-Brush is now available in the UK from Charterhouse Turf Machinery.
07 March 2014
With no fewer than 18 upgrades to the 1200 model, the new GreensPro 1240 claims to take greens rolling to "another level".
21 February 2014
Combining aeration and sanding in one action, the VGR Top Changer introduced by Campey Turf Care is designed to encourage rapid, healthy grass growth.
21 February 2014
Turning on a sixpence and powered by a 12.2hp Kawasaki engine, the Sand Pro 2040Z bunker rake from Toro is the industry's first zero-turn mechanical groomer.
21 February 2014
Golf course pond and lake management specialist Otterbine has a new Fractional five-in-one aerating system.
---
Additional Information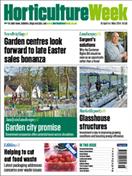 NEWS: Garden centres look forward to late Easter sales bonanza

SARGENT'S SOLUTIONS: Why the Customer Rights Bill should be seen as an opportunity rather than a threat

MARKET REPORT: Glasshouses
LANDSCAPE ANALYSIS: Government prospectus offers potential boost across disciplines

EDIBLES: Helping cut food waste - latest packaging addresses concerns over waste issues
PLANT FOCUS: Polygonatum