Breadcrumbs
---
Edibles Production
Latest news, in-depth reporting and discussion of the fruit, vegetable and salad crop sector.
Looking for grower jobs? Search horticulturejobs.co.uk.
Edibles Production In Depth

22 November 2013
Horticultural colleges are finding new ways to attract recruits after fees were forced up for older students, Jack Shamash reports.
14 November 2013
Suppliers of peat alternatives are confident that their products can plug the gap as the peat withdrawal deadline draws slowly closer, Gavin McEwan finds.
08 November 2013
Technology advances are making these structures ever more important for growers, Sally Drury reports.
State of the Industry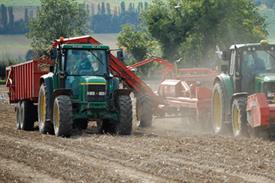 Following a year when prices lagged behind costs, Gavin McEwan assesses prospects for 2012.
John Adlam's Notes From The Nursery
A weekly roundup of jobs to do and what to watch out for to ensure your crops are protected.
Market Prices
Supermarket retail prices
Big changers week on week as of 25 November 2013
| | | |
| --- | --- | --- |
| Celery, each | 160 | M&S |
| Radish, 200g | 75 | Co-op |
| Broccoli, kg | 200 | Tesco |
| Apples, Cox, kg | 175 | Sainsbury's |
Wholesale prices
Average most usual as of W/E 29 November 2013.
| | | |
| --- | --- | --- |
| Beetroot, topped | 37.77 | |
| Cabbage, red | 31.91 | |
| Dessert apple, Gala | 66.34 | |
| Swede, all varieties | 33.89 | |
*National average wholesale and median prices charged in England.
The data in this column is supplied by Defra. www.defra.gov.uk
Technical

02 May 2013
Green-manure crops -- also known as cover crops -- play an important part in field-crop production in both agriculture and horticulture.

04 April 2013
Most of the water in the South and South East contains appreciable amounts of calcium, giving it its characteristic "hardness". These calcium levels can result in several problems, all of which can be alleviated by acidifying the water. Although pH...
18 October 2012
How is the top-fruit sector faring following a tough season - and what of prospects for next year? Gavin McEwan reports.

07 September 2012
As the cost of oil, gas and electricity continues to rise, many growers are seeking alternatives that will allow at least the maintenance of profit margins in future, if not produce actual savings. Additionally, pressures relating to climate change a...
Pest & Disease Factsheets
NIAB Crop Trials
02 August 2013
Industry trials on providing effective pest control while leaving minimal pesticide residue are yielding positive results, Gavin McEwan finds.

15 November 2012
Despite tough growing conditions seed companies showed some promising varieties at October's Lincolnshire field trials, Gavin McEwan reports.
20 July 2012
Despite the later date caused by poor weather, suppliers had plenty of new lettuce and endive varieties at the NIAB's trials, Jack Shamash finds.

13 July 2012
Research and trials are adding to the understanding of latest vining pea varieties, planting populations and their genetic make-up, says Sue Jupe.
---
Additional Information