Breadcrumbs
---
Crime affecting Horticultural Businesses
At Horticulture Week we have found ourselves covering an increasing number of incidents of crime at horticultural businesses. Some of these have been violent robberies and very frightening for people on the premises at the time. In this section you will find stories we have run in the past year on companies that have been affected.
In addition, we have launched a map charting the locations of the robberies, which we hope will help to raise awareness and focus the attention of the relevant authorities and industry bodies on a problem that appears to have grown as the recession has deepened.
If you have direct knowledge of any crime affecting horticultural businesses email us at hortweek@haymarket.com.
---
Additional Information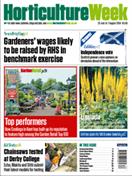 NEWS: Gardeners' wages likely to be raised by RHS in benchmark exercise
GARDEN RETAIL TOP 100 PROFILE: How Coolings in Kent has built up its reputation
KIT TEST: Echo, Makita and Stihl submit their latest chainsaw models for testing at Derby College
PLANT FOCUS: Ligularia
PEST & DISEASE FACTSHEET: Spider mites
UK GROWER AWARDS 2015: Entries now open