Breadcrumbs
---
Comment
Comment from Horticulture Week writers, columnists and industry experts.
Kate Lowe
07 February 2014
For the past five years, Horticulture Week's annual Garden Retail Top 100 has tracked the fortunes of all the leading garden centres across the UK's garden retail industry.
24 January 2014
As flood warnings remain in place across many areas of the UK, the subject of urban cooling and the crucial role that plants can play in its support may not be uppermost in the minds of those concerned with the built environment.
Professor Geoff Dixon
22 November 2013
Politically, horticulture's image has lacked punch and impact. Yes, Parliament's British fruit industry group and the gardening and horticulture groups led by Laura Sandys and Brian Donohue ably raise the flag. But they compete against a huge number ...
22 August 2013
Hot summers are good for horticulture, or are they?
---
Additional Information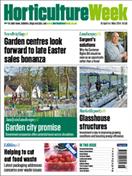 NEWS: Garden centres look forward to late Easter sales bonanza

SARGENT'S SOLUTIONS: Why the Customer Rights Bill should be seen as an opportunity rather than a threat

MARKET REPORT: Glasshouses
LANDSCAPE ANALYSIS: Government prospectus offers potential boost across disciplines

EDIBLES: Helping cut food waste - latest packaging addresses concerns over waste issues
PLANT FOCUS: Polygonatum