Breadcrumbs
---
Comment
Comment from Horticulture Week writers, columnists and industry experts.
Kate Lowe
30 May 2014
This edition sees our annual update of the Garden Retail Power 100 (see p24), our take on the who's who of movers and shakers in the garden retail sector.
16 May 2014
With the garden industry season on a roll thanks to consistently good sales from mid March, through Easter and up to the recent bank holiday weekend, it would be all too easy to forget longer-term concerns about the need to reach younger, more inexpe...
Professor Geoff Dixon
18 April 2014
Continual rain over three winter months flooded large areas, devastating lives, homes, businesses and communications.
22 November 2013
Politically, horticulture's image has lacked punch and impact. Yes, Parliament's British fruit industry group and the gardening and horticulture groups led by Laura Sandys and Brian Donohue ably raise the flag. But they compete against a huge number ...
---
Additional Information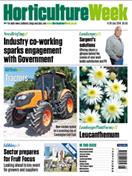 NEWS: Industry co-working sparks engagement with Government
SARGENT'S SOLUTIONS: Offering clients a glimpse behind the scenes of your work builds satisfaction and PR
KIT TESTS: Tractors
PLANT FOCUS: Leucanthemum
SHOW PREVIEW:
Sector prepares for Fruit Focus