Breadcrumbs
---
Buy & Sell
Browse the latest classified adverts from Horticulture Week.
Looking to place a classified advert on the site? Contact our team on 0208 267 4952 or email lara.cronshaw@haymarket.com.
Categories
ARBORICULTURE MACHINERY
Stump Grinders
DANequip manufacture of narrow access pedestrian stump grinders
Also a dealer for the German built Tünnissen brushwood chipper.
For more information:-
Tel:01420 474600
email:info@danequip.co.uk
---
---
BUSINESS AND PROPERTY MANAGEMENT

NURSERY FOR SALE
Hampton Ivens are pleased to offer:
Colombo Nursery, New Road,
Swanwick, Southampton SO31 7HE

Agricultural tie applies. 1500q ft, three bedroomed detached house with conservatory. Approximately 1 acre of glasshouses. Barn 75' x 50'. Total area for sale, approximately 2.5 acres. All main services, 3 phase power. To include propagation house with boiler.
Guide Price of £600,000 or for Rental at £35,000 p.a.
Tel: 01489 565636
email: admin@hamptonivens.co.uk
Web: www.hamptontivens.co.uk
---
LAND WANTED
WANT TO RAISE SOME CAPITAL? Do you have some spare land?

We are a landscape business looking to buy some growing and storage space between ½ an acre and 1 acre.
Call 07939 839 347 to discuss.
---
OVERSEAS BUSINESS OPPORTUNITY IN AUSTRALIA
Opportunity to purchase a landscape design, construction and garden maintenance business:
High end exclusive horticultural business in Perth, Western Australia with 15 years of successful, profitable operation for sale.
Dedicated and knowledgeable staff team available to remain working in the business if desired by new owner(s).
Staff include 3 x permanent employees, 2 x permanent sub-contractors and 2 x casual staff, not including current partners.
Climate and soil conditions are conducive to efficient construction methods and maintenance procedures.
Landscaping works consistently contracted via the website and personal word of mouth recommendations for the past 12 years.
No heavy machinery required as regular long term machinery sub-contractors are available on short notice.
Horticultural maintenance clients currently comprise of 50+ regular maintenance clientele, with work visits on a rotational fortnightly and monthly basis.
Existing owners are relocating for family reasons.
Accounting documentation is available upon request along with further details from Erman Cincotta, from Erman Cincotta Chartered Accountants, Melbourne Australia esc@qsc.net.au Ph. +61 3 6702183) during business hours, Monday to Friday 9.00am – 5.00pm.
Price: High 200K's.
NURSERY EQUIPMENT

Hortec
For sale and hire New, s/h and ex-demo.Machinery inc. Javo potting and trayfilling machines and Javo conveyors.
Tel: 01295 688422
Email: enquiries@hortec.co.uk
Web: www.hortec.co.uk
PACKAGING
John Dowty Ltd
Polythene Bags - Plain or printed, headed or wicketed. For all your packaging.
Farm Shop Packaging - Printed for potatoes or plain. Bag neck sealers and tapes. Carriers,
bags-on-a-roll. Large range of other produce packaging.
Nets - to suit all requirements for vegetables and logs. Complete range of sizes. Various
colours. Net and Stretch wrap for pallets.
For all your Packaging - Paper sacks for potatoes, carrots, etc. Wire ties and stitching
thread. Corrugrated boxes, Adhesive tapes, rubber bands etc.
P.Y.O Baskets and Punnets - For all your packaging.
JOHN DOWTY LTD.
Ombersley, Worcs.
Tel: 01905 620404
Email: info@johndowtyltd.co.uk
PLANTS & SHRUBS

DR Simmons
Wholesale suppliers of all types of Flower Bulbs, Fruit Trees &
Bushes, Ornamental Trees, Prepacked & Container grown
nursery stock, Seed Potatoes & Onion Sets, Christmas Trees.
Seasonal Catalogues Available
View online now at www.drsimmons.co.uk
Please contact us for quotations and availability at
45 Market Way, Pinchbeck, Spalding, Lincs. PE11 3PE
Tel: 01775 723320
Fax: 01775 760451 / 714970
Email: sales@drsimmons.co.uk
---
ROOTED CUTTINGS
JACSTEK
Specialists in rooted cuttings of shrubs and perennial

Variety Price (euro) Tray
Carex morrow / ice dance / variegata 0.300 84
Cotoneaster dammeri / coral beautyEuonymus em. gold / em gaiety 0.090 144
Hedera hybernica paperplug 0.011 104
Hypericum hidcote 0.095 144
lavendel munstead / hidcote 0.015 144
Miscanthus gracimilus / strictus 0.055 51
Pennisetum aloc / hameln 0.025 84
Symphoricarpus hancock 0.095 144
Stephanandra inc. crispa 0.095 144
Vinca minor / major 0.011 144
Please contact us for a competitive quote or for more information.
J.A.C Cuttings
Tel: +31 73 5949162
Email: info@jacstek.nl
Web: www.jacstek.nl


PROPERTY FOR SALE
Pulborough, West Sussex
Well presented 3 bedroom detached farmhouse with adjoining retail nursery (now closed), in all about 1.82 acres.
Outbuildings include staff accommodation annexe, oak garage, propagation glasshouse and 2 large storage sheds.
£670,000. Agricultural restriction applies.
Contact: Henry Adams
Tel: 01903 742535

---
Stowe by Chartley, Staffordshire
Diverse Leisure Business Including Garden Centre, Visitor Attraction, Rental Income and Period House
Former dairy farm now comprising owner operated tea rooms, farm shop, craft shop, indoor play barn, outdoor activity area, picnic area and farm attraction. Tenanted garden centre, bakery, sweet shop, cake shop, pottery centre, blacksmith's, wildlife rescue centre and poultry shop. Nine bed period farmhouse, currently let as bed and breakfast
accommodation. Access to the adjacent Staffordshire Narrow Gauge
Railway. EPC ratings = C to F
In all about 8.1 ha (20 acres)
Guide Price £1.5 million
Savills Leisure
Contact:
Abi Goodwin
agoodwin@savills.com
01685 269000
Ian Simpson
isimpson@savills.com
01685 269000
---

---
YOUNG PLANTS
Rötjes young plants, your 'roots to success'!
Rötjes young plants is a leading Dutch supplier of propagation material for the arboriculture sector. Our core business is rooting cuttings of ornamental shrubs, ground covering shrubs and roses. We devote high priority to guaranteeing top quality,
with our central focus is satisfying the wishes of our customers
at all times. Flexibility is key at Rötjes young plants!
Check our website www.rotjes.com for the current stock.
Rötjes young plants
Horsterdijk 116
5973 PR Lottum (NL)
T: +31 (0)77 366 4080
F: +31 (0)77 366 4081
E: info@rotjes.com
---
Click here to return to the top of the page
---
---
Additional Information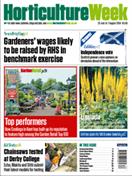 NEWS: Gardeners' wages likely to be raised by RHS in benchmark exercise
GARDEN RETAIL TOP 100 PROFILE: How Coolings in Kent has built up its reputation
KIT TEST: Echo, Makita and Stihl submit their latest chainsaw models for testing at Derby College
PLANT FOCUS: Ligularia
PEST & DISEASE FACTSHEET: Spider mites
UK GROWER AWARDS 2015: Entries now open