Breadcrumbs
---
RHS Chelsea Flower Show
News, views and background on the RHS Chelsea Flower Show.
RHS Chelsea Flower Show News
Chelsea 2013 - THE WINNERS
RHS Chelsea Flower Show on Twitter
Tweets about "#rhschelsea"
Opinion

04 April 2014
Life must be a lot easier and more enjoyable for those of us who are laid back and do not care about things. The older I get the more frustration is experienced by the ways of the modern world.

10 January 2014
During a recent resident consultation event I was reminded of the wholesale discrimination against people simply because they are poor and live in a deprived area.
---
Additional Information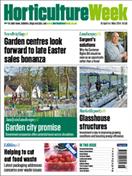 NEWS: Garden centres look forward to late Easter sales bonanza

SARGENT'S SOLUTIONS: Why the Customer Rights Bill should be seen as an opportunity rather than a threat

MARKET REPORT: Glasshouses
LANDSCAPE ANALYSIS: Government prospectus offers potential boost across disciplines

EDIBLES: Helping cut food waste - latest packaging addresses concerns over waste issues
PLANT FOCUS: Polygonatum