Breadcrumbs
---
Big Issues
Horticulture Week Big Issues give you a quick, easy way to find articles on important topics. New articles are added regularly to many of the sections, so do check back if you are following a particular issue.
News, views and background on this year's RHS Chelsea Flower Show.
The Make Parks a Priority campaign is calling for a fresh Parliamentary inquiry into urban parks to address the impact on parks of budget cuts.
Follow the debate on the use of peat and developments in peat alternatives here.
Latest news, drought, reservoir and groundwater levels and how horticulture businesses are coping.
At Horticulture Week we have found ourselves covering an increasing number of incidents of crime at horticultural businesses. In this section you will find stories we have run in the past year on companies that have been affected.

Early signs of climate change, and how experts think it will affect the horticulture industry
---
Additional Information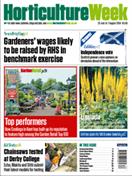 NEWS: Gardeners' wages likely to be raised by RHS in benchmark exercise
GARDEN RETAIL TOP 100 PROFILE: How Coolings in Kent has built up its reputation
KIT TEST: Echo, Makita and Stihl submit their latest chainsaw models for testing at Derby College
PLANT FOCUS: Ligularia
PEST & DISEASE FACTSHEET: Spider mites
UK GROWER AWARDS 2015: Entries now open