Breadcrumbs
---
Awards
Horticulture Week awards celebrate excellence in the garden retail, ornamentals production, edibles production and landscape sectors through the Garden Retail Awards, UK Grower Awards and BALI National Landscape Awards organised in association with Horticulture Week.
The UK Grower Awards celebrates the very best in the UK production horticulture industry.
The Garden Retail Awards is a fixture and highlight of the garden centre industry calendar.
The 2013 BALI National Landscape Awards was held on Friday 6 December at Grosvenor House, London.
---
Additional Information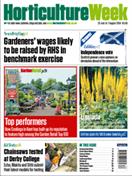 NEWS: Gardeners' wages likely to be raised by RHS in benchmark exercise
GARDEN RETAIL TOP 100 PROFILE: How Coolings in Kent has built up its reputation
KIT TEST: Echo, Makita and Stihl submit their latest chainsaw models for testing at Derby College
PLANT FOCUS: Ligularia
PEST & DISEASE FACTSHEET: Spider mites
UK GROWER AWARDS 2015: Entries now open