Breadcrumbs
---
Arboriculture
News, in-depth reporting and discussion of tree surgery, forestry and arboriculture, including arboricultural contracting, local authority tree officers, consultancy and legal & insurance issues.

Looking for tree surgeon jobs or forestry jobs ? Search horticulturejobs.co.uk


Arboriculture In Depth

18 April 2014
Your employees can help you to differentiate from your competition in a positive way, says Neville Stein.
29 March 2014
Cankers in nursery stock species are characterised by the death of cambium tissue of woody stems, branches or twigs, causing them to sink in.

21 March 2014
Organisations that can respond well to crises are more likely to succeed, says Ben Hurley.
Pest And Disease Factsheets
Machinery Tests

07 February 2014
With four-wheel drive, diff lock and radio control, this go-anywhere machine is designed to get to work in those intensely awkward situations and allows the operator to stand in a safe and convenient position. It also has a massive 2m sweep, which w...

07 February 2014
If you hate the jiggling required by some small pedestrian stump grinders, then you have to try this one. It is well built but, crucially, it has a turntable that makes sweeping the stump a breeze. No operator force is required - and it's got agility...

07 February 2014
Powered by a water-cooled 30hp Kubota diese engine, this solidly built machine boasts a sweep of 1.35m - that's more than 4ft - and can grind to a depth of 38cm. We are expecting great things of it. What we learn is the value of selecting the right t...

25 October 2013
It is always exciting to have a new brand enter the market. When it is one that is built by an experienced and knowledgeable woodchipper distributor and is based almost entirely on customer research, we expect it to be something special. We are not d...
What's New
21 March 2014
Providing Bomford arm mower owners with alternative uses outside the hedge-cutting season, the Pro Drill Head can be used to power either a range of post-hole borers or a tree stump planer. A heavy-duty hydraulic motor can be used at oil flow rates ...
25 October 2013
A commercial-grade tree-trimming attachment, the LimbSaw from Kitt Agri of Bridgwater mounts directly onto the front-end loader of a tractor or skidsteer and connects to the auxiliary hydraulics to enable trimming up to 8ft beyond the reach of the lo...

11 October 2013
Part of an introductory launch offer that sees customers offered a ULB80P battery, Excelion 2000 brushcutter and roll-cut head for 1,500 + VAT, the new trimming unit from Pellenc weighs in at just 5.1kg and it comes with a heavy-duty harness. Sold...
27 September 2013
Designed for tough vegetation, this new brushcutter from Schiller Grounds Care has a hydrostatic transaxle to give infinitely variable speeds up to 4.2mph forwards and 2.6mph in reverse. The unit is constructed from sevenand 10-gauge welded steel a...
27 September 2013
Pulling together its Soil Harmony and Just Saws operations, Charterhouse Turf Machinery has launched a website displaying all its products.
13 September 2013
Blowers Schiller Grounds Care has self-propelled the High Performance Vacuum with infinitely variable hydrostatic drive. The Cramer LS 5000 sweeper vac now features a slide-out collection bag and optional gas-conversion kit. Simon Tullett Machinery...
---
Additional Information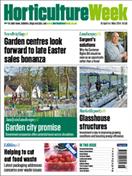 NEWS: Garden centres look forward to late Easter sales bonanza

SARGENT'S SOLUTIONS: Why the Customer Rights Bill should be seen as an opportunity rather than a threat

MARKET REPORT: Glasshouses
LANDSCAPE ANALYSIS: Government prospectus offers potential boost across disciplines

EDIBLES: Helping cut food waste - latest packaging addresses concerns over waste issues
PLANT FOCUS: Polygonatum