Breadcrumbs
---
Landscape
Latest news, in-depth reporting and discussion of grounds maintenance, landscape contracting, construction and design, as well as landscaping materials, the built environment, biodiversity and sustainability.

Looking for landscaping jobs or garden design jobs ? Search horticulturejobs.co.uk


Landscape In Depth

18 April 2014
Landscape architects, landscape contractors, maintenance teams and amenity suppliers could benefit from prospectus.

18 April 2014
Your employees can help you to differentiate from your competition in a positive way, says Neville Stein.

10 April 2014
Alan Sargent advises that the Customer Rights Bill should be regarded as an opportunity to tighten up professional practice rather than treated as a threat.
Sargent's Solutions
Your professional gardening and landscaping queries answered

13 March 2014
By taking on your first full-time employee you are embarking on a serious business journey. Alan Sargent helps you to plot a successful course.
Noel Farrer
Landscape luminary Noel Farrer casts an eye over the state of the industry.
Farrer on...

Read all about the winning projects for this year's awards run in association with Horticulture Week.
Latest Machinery Tests

21 February 2014
Look out, the Vikings are coming. Stihl calls this latest model a "mulching expert", and we can see why. This is an efficient performer that gives a nice clean cut, with the finely mulched grass clippings evenly deposited even when conditions are les...

21 February 2014
With its white and green livery and clean lines, this 46cm mower looks modern and stylish, while the controls might even be described as futuristic. But looks are not everything. The company rep produces a mallet and thumps the Xenoy deck, hard, firs...

21 February 2014
"This is more like it," Braund enthuses as he tests the second Etesia mower. "It's a well-built machine, a lot wider and there's plenty more power. It cuts dense grass down low." He clearly likes to get the job done. This model has a cast-aluminium ...
21 February 2014
A well-known name in cars and generators, Hyundai is now offering lawn and garden care equipment. Launched at IoG Saltex (September 2013), the range includes hedge trimmers, brushcutters, chainsaws and blowers as well as lawnmowers. It has sold well...
What's New
18 April 2014
Hire Supply Company HSC has purchased the business and assets of Midland Power Machinery.
18 April 2014
Fresh grass clippings, leaves, farmyard manures and weeds can all be piled into a Mantis ComposTumbler to give nutrient-rich compost in just two weeks when an activator is added.
18 April 2014
Stihl has joined the robotic lawnmower market with the introduction of the intelligent Viking-branded iMOW.
21 March 2014
Providing Bomford arm mower owners with alternative uses outside the hedge-cutting season, the Pro Drill Head can be used to power either a range of post-hole borers or a tree stump planer. A heavy-duty hydraulic motor can be used at oil flow rates ...
21 March 2014
With a power transmission unit that will operate many of the company's machines, a new two-wheel tractor built by Blec can be specified with Honda or Yamaha engines to give petrol or diesel options.
21 March 2014
With a powered cut-and-collect system, the new C-Series lawn tractor from Countax can mow quickly. The XRD cutter deck uses contra-rotating blades to cut the grass before throwing the clippings in front of the collector. Driven by the tractor's engi...
Andrew Fisher Tomlin
Inside the mind of a garden designer.

    Read 'Designland'

---
Additional Information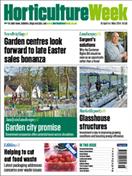 NEWS: Garden centres look forward to late Easter sales bonanza

SARGENT'S SOLUTIONS: Why the Customer Rights Bill should be seen as an opportunity rather than a threat

MARKET REPORT: Glasshouses
LANDSCAPE ANALYSIS: Government prospectus offers potential boost across disciplines

EDIBLES: Helping cut food waste - latest packaging addresses concerns over waste issues
PLANT FOCUS: Polygonatum