Breadcrumbs
---
Landscape
Latest news, in-depth reporting and discussion of grounds maintenance, landscape contracting, construction and design, as well as landscaping materials, the built environment, biodiversity and sustainability.

Looking for landscaping jobs or garden design jobs ? Search horticulturejobs.co.uk


Landscape In Depth
16 May 2013
Offering design services is an increasingly popular method for garden centres to attract customers with money to spend, Jack Shamash discovers

16 May 2013
As the industry begins to realise the benefits of educating the workforce with e-learning methods, Magda Ibrahim examines the pros and cons

10 May 2013
Battery power has clear advantages over petrol, but how does performance fare? Sally Drury finds out.
Sargent's Solutions
Your professional gardening and landscaping queries answered
Noel Farrer
Landscape luminary Noel Farrer casts an eye over the state of the industry.
Farrer on...

Read all about the winning projects for this year's awards run in association with Horticulture Week.
Latest Machinery Tests

15 March 2013
Tracmaster has expanded its landscape range to include 27 new items of the Camon variety. The TJ53 is one of the new brushcutters and is a Kawasaki-powered unit.
15 March 2013
With an impressive torque rating, this new Solo Power Duo makes a powerful entry into the landscape and forestry industries. It has a 54.2cc engine yet weighs just 8.3kg - and with lots of adjustment to set it perfectly for each individual's use, the...
15 March 2013
This machine is lightweight yet powerful, versatile and easy to use. "Started first time," says Braund. "It's quiet and I can't feel any vibration."

15 March 2013
One of two four-stroke PureFire units from Hitachi, this bike-handled trimmer is lovely and quiet. It weighs just 5.2kg and has a 25cc engine that meets European Stage 2 standards for low emissions. While it has the smallest engine in its class, it h...
What's New
10 May 2013
Developing the Eliet brand of green-waste shredders, UK distributor PSD Groundscare is supplying the new Pro 5 professional and the new-generation Eliet Minor 4S, Major 4S and Prof 5B.
10 May 2013
John Deere has updated four of its petrol engine walk-behind rotary lawnmowers with improved operator comfort and cut quality.
10 May 2013
Bobcat's 3400D multipurpose diesel-powered utility vehicle now comes with road homologation as standard (tractor).
10 May 2013
Makita's new five-model range of mains-powered submersible pumps offers a choice of capacity and capability. All models have motor shut-off protection triggered by adjustable floats. The motors are protected by a double mechanical and oil bath system...
10 May 2013
STIHL has introduced a trio of floor sweepers for use indoors or out. The range includes a compact pedestrian model for use around the garden and home, plus two commercial machines - including a powered-brush model that sits in STIHL's Li-ion battery...
26 April 2013
Spaldings has expanded its ground-care catalogue this year to include the recently introduced arborist range of 150 products from leading manufacturers such as STIHL, Stein and Silky.
---
Additional Information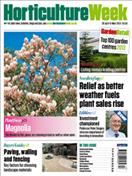 NEWS: Relief as better weather fuels plant sales rise
PLANT FOCUS - Magnolia
BUYERS' GUIDE - Paving, walling and fencing
GARDEN RETAIL - Top 100 Garden Centres
SARGENT'S SOLUTIONS - How to manage a growing project
LAWN CARE - High hopes for seed sales
INTERVIEW - Graham Spencer, founder, Plants for Europe